Zeppelin Web Sites
Welcome to the Zeppelins Over Sheffield site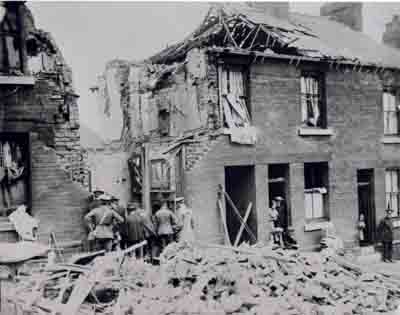 On Tuesday 26th September 1916, Sheffield, Yorkshire, England, experienced its first air raid when a German Navy Zeppelin dropped around 20 high explosive bombs and 30 incendiaries on the city. The official casualties were 28 people killed and 19 injured. Nine houses and a chapel were demolished and 62 houses damaged. Most of the damage was confined to workers' houses and industry escaped significant damage. Although the city would suffer a far greater loss of life and see more widespread damage during air raids 24 years later, in the Second World War, the effects were none the less devastating.
Surprisingly little has been written about this momentous event in Sheffield's history. Although accounts have appeared in a number of popular local history books, they amount to no more than a few paragraphs. Local historians Mark Goodwill and Glynn May are researching a book telling the full story of the raid. Much of their research is based on official records and censored newspaper reports from the time. These sources, however, tell only part of the story and contain some errors, contradictions and omissions. Despite considerable progress many gaps remain.
Glynn and Mark believe there is a wealth of information waiting to be discovered and need your help. They would be interested to hear from anyone who has letters, documents, memorabilia, family stories, photographs or anything else relating to the raid or the people it affected. A number of people, some related to raid victims, have already provided invaluable information and their contributions are particularly appreciated.
The aims of this site are to remember those who lost their lives in the raid, give an overview of key events and highlight those areas where further information would be welcome.
Mark and Glynn respect the privacy of people providing information and details of living individuals related to those affected by the raid will not be published.
If you have any information about the raid, and haven't already been in touch, please contact Mark and Glynn.